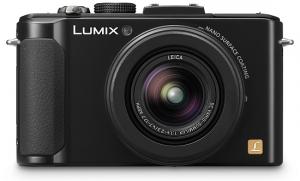 Revolution! No sooner has Samsung launched the interesting EX2F digital camera, and claimed the throne for the brightest compact camera lens, than it's been ousted! Panasonic has today launched its new Panasonic LX7 compact, with the same sensor size and a greater zoom range--and yet its lens is even brighter.

At wide angle, there's nothing in it. Both cameras have the same 24mm-equivalent wide angle, and the same f/1.4 maximum aperture. It's once you zoom in some that the difference becomes clear. The Samsung EX2F's lens stops at 3.3x zoom, with an f/2.7 aperture. The LX7, by contrast, continues on to 3.8x, and somehow manages to retain an f/2.3 maximum aperture even at that telephoto position. Impressive stuff!

At ten megapixels, the Panasonic LX7 has slightly lower resolution, but in our book that's an advantage. It's still plenty for most purposes, and all other things being equal should equate to slightly lower noise levels, to boot. While it's the same sensor size and resolution as used in Panasonic's LX5 two years ago, the company says it has brought about a 1.5 dB improvement in noise levels versus the previous sensor.

To continue reading click here.